"Interesting applications of engineering idea can be technologies of soil desalinization, water softening, as well as water and soil cleanup and regeneration, increase of its fertility using zeolites." The President of the Republic of Kazakhstan N.A. Nazarbayev (From report at the first convention of Kazakhstan engineers in May, 1993)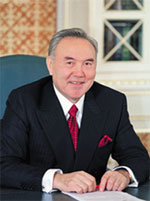 Taza Su Limited Liability Partnership is a dynamically developing diversified company known in Kazakhstan for offering works and services on soil and ground cleanup from oil and oil products contamination, as well as production and processing of natural zeolite and using it in various fields of industry, environment protection and agriculture.
"TAZA-SU LLP was founded in 2003. TAZA-SU Limited Liability Partnership operates Chankanay zeolite deposit, which is the largest in Kazakhstan. The director is Idrissova Dinara Zheypisovna.
The company has developed and has introduced the Integrated System of Quality Management, which is confirmed by the following certificates:
1. Certificate of compliance of quality management system with ST RK ISO 9001-2001
2. Certificate of compliance of environmental management system with ST RK ISO 14 001-2006
In July, 2009 in Astana, Association "League of Consumers of Kazakhstan" awarded TAZA-SU LLP with the "PERFECT" National Quality Symbol, which is the symbol of the quality goods and services sold on the territory of Kazakhstan.